IN RESPONSE TO COVID-19
Equinox takes the health and safety of our customers and employees very seriously. We are monitoring the recommendations of the CDC and state government and following the protocol that is in place at this time.
We are accepting online orders only for pickup between 2:00pm and 5:00pm on limited days. Check our store for open days. Call 970-484-1368 if you would like to purchase a keg. Please understand we can only accept credit cards at this time.

Beers available for Crowler fills:
Space Ghost IPA
Vernal Hefeweizen
Sunrise Golden Ale
Deep Space Porter
Black Hole Sun Ale
Taste of Space India Brown Ale
Waves of Grain Amber Ale
Buzz Lightbeer
Arrakis Spiced Imperial Brown Ale
Eclipse Brown Ale
O'Rion Irish Ale
Borealis Winter Ale
Ghost Ryder Dunkel IPA
Zenith IPA
Details Belgian Golden Strong Ale
Parsec Imperial IPA
Event Horizon Imperial IPA
2019 Bottles of Midwinter Warmer are available by the bottle or case.
BALANCED BEERS FOR EVERY SEASON!
At Equinox Brewing Co. we focus on the social aspects of beer, bringing people out of their homes into a public house to enjoy good beer and good conversation. You won't find TV's, just free live music every Friday and Saturday. On sunny days our Beer Garden provides a shady space to relax and sip a pint. Our brewers work tirelessly to keep our 18 taps filled with a variety of palate pleasing creations. Our continually changing line of beers reaches local bars and restaurants via our custom-made keg trike, a self-limiting distribution model that keeps our beer local.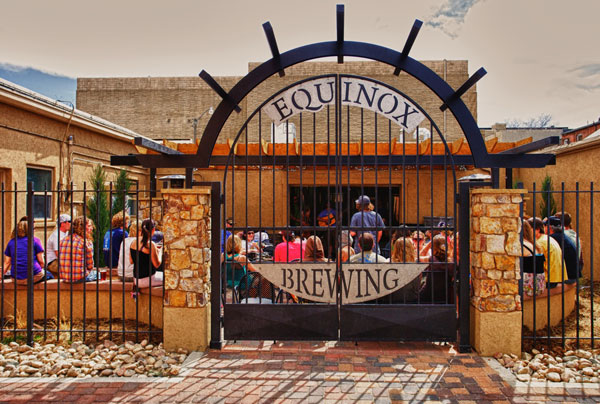 Our Events
We have free live music in the taproom and food trucks parked outside every Friday and Saturday.
View Calendar